Older Available Kittens / Cats
I have a few older kittens who got caught up in the time when I was moving my mom, remodeling her house and selling it, going thru a divorce, selling my home and looking for another (unlike most cats... Siberians adapt to a new home with amazing ease). However, these kittens did not get the attention they would have normally gotten if not for all the up heaval. So these kitties will need alot of love and patience to adapt to the change.
If you have that home, please call me and we can discuss it. I am going to be very particular about their placement.
I have some older kittens/cats that will be available very soon.
I can discuss who is going to be available if you want to talk on the phone.
______________________________________________________
SOLD LOGAN
Logan is now with his new Family and doing very well.
This is Logan. He is 3yrs 5mos. Old. His birthday is August 28th.
Logan's family is going through a divorce right now so unfortunately they have to find a home for him. This is very difficult for them to let him go. But want to be sure that he goes somewhere where he can get lots of loving. They contacted me since they thought I might have connections to help them.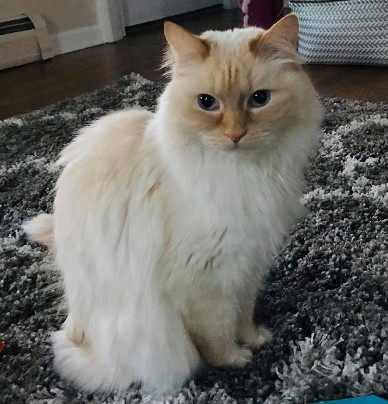 "He loves having all the attention and adores children so I would love to see him go to a family with young kids and no other pets. This little boy can be shy at first but once he warms up he will greet you at the door and sleep between your legs. He has the cutest meow.... he actually sounds like a puppy!"
He is fully vetted and neutered. Logan's placement fee is $900.
___________________________________________________
Tasha has found her new home.
I have a Beautiful 4 1/2 yr old Girl who need a very special home. She is having a great time playing with another girl who is playful but not very forceful. When I had another cat who would sneek up and jump on her, it really worried her. I think this is the reason she will chew and eat the toes out of socks or any material laying around. Cats will eat fabric if their dietary needs are not being met or if they were weaned too early. She is on the same great diet as everyone else and was not weaned early so it might be stress related. I don't want her go to a home with kids who leave things laying around. I would have some concern that she could eat something like a pom pom that could block her digestive tract. :/ Also I have a feeling she would enjoy a quieter home. She is so lovey. She loves to lay on your lap and snuggle in bed. She is also very playful and loves chasing a laser light and cat toys. I am absolutely in love with her. People ask how I can let these kittens go. It is not as hard when they are still very young, but this is extremely difficult, as I love her so much. I have had alot of people ask about Tasha, but they lived on the east coas, so it would be harder to get her back if it was not the right place, (if she was not happy or the new family was not happy). Call me if you think you may have the home for my precious girl and we'll talk and see if it could be a fit.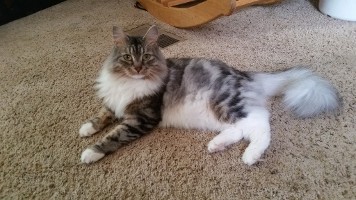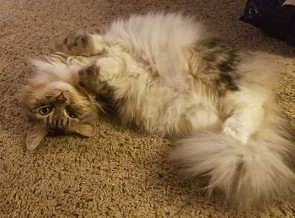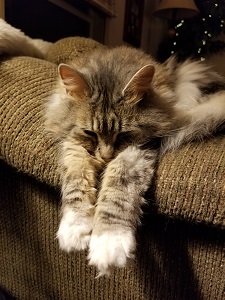 $700
***************************************************************************************
SOLD KEELY has found her forever home.
Keely is a super lovey 7 1/2 yr old girl.
She is so affectionate and really loves to head bump.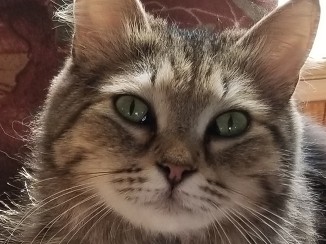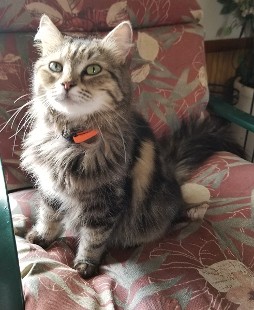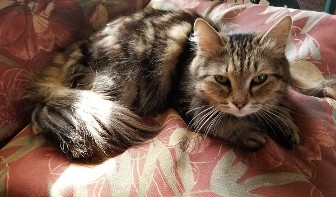 $500
*********************************************************************************
SOLD GRAYSON and GREGORI...Happily have found a home where they were able to stay together.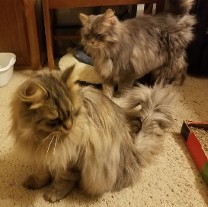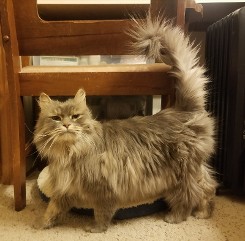 $700
GREGORI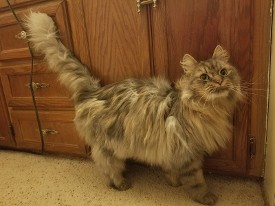 $700