Older Available Kittens / Cats
I have a few older kittens who got caught up in the time when I was moving my mom, remodeling her house and selling it, going thru a divorce, selling my home and looking for another (unlike most cats... Siberians adapt to a new home with amazing ease). However, these kittens did not get the attention they would have normally gotten if not for all the up heaval. So these kitties will need alot of love and extra time and patience to adapt to the change.
If you have that home, please call me and we can discuss it. I am going to be very particular about their placement.
_________________________________________________________________________________________________________
Tasha
I have a Beautiful 3 1/2 yr old Girl who need a very special home. She is having a good time playing with another girl who is playful but not very forceful. When I had another cat who played a little rougher, it really worried her. I think this is the reason she will chew and eat the toes out of socks or any material laying around. Cats will eat fabric if their dietary needs are not being met or if they were weaned too early. She is on the same great diet as everyone else and was not weaned early so it might be stress related. I don't want her go to a home with kids who leave things laying around. :/ Also I have a feeling she would enjoy a quieter home. She is so lovey. She loves to lay on your lap and snuggle in bed. She is also very playful and loves chasing a laser light and cat toys. And as I said, she has really enjoyed playing with one of my other girls. I am absolutely in love with her. People ask how I can let these kittens go. It is not as hard when they are still young, but this is extremely difficult as I love her so much. Call me if you think you may have the home for my precious girl and we'll talk and see if it is a fit.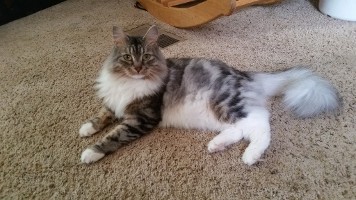 $700
___________________________________________________________________________________________________________
GRAYSON and GREGORI
Sorry these pictures are no the greatest. I'm getting a new cell phone as mine is not working well.
$700
Grayson and his brother are available but I want them to go to go to homes without allergies. I am not sure they are as hypo allergenic as my other kittens. They had a litter mate who was placed and needed to be placed in a different home due to allergies. I spayed and neutered the parents of these two since my only reason for breeding is to provide cats to those with allergies.
_______________________________________________________________________________________________________________________________